What Is Love? Acts of Resilience in A Body Society Tries to Erase
Join us for an engaging and interactive discussion on the history of body liberation movements throughout various communities. We will explore ways in which to build resiliency and behave with love toward your body, even if/when you don't like your body. The presentation will also explore body positivity, how it fits- and doesn't fit- within eating disorder recovery. Less...
Learning Objectives
Discuss body liberation movements within different communities.
Explain what is meant by body positivity and how it fits, and when it does not fit, with respect to eating disorder recovery.
List at least two strategies to empower clients to build love and resilience within their bodies.
Friday, November 05, 2021
10:00 AM CDT - 12:00 PM CDT
Register for this Webinar
About the speaker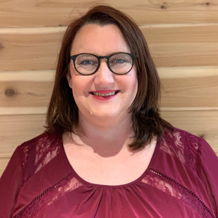 Rachel Porter, PsyD
Lead Therapist, Carolina House
Rachel Porter, PsyD, is an eating disorders professional living and working in Durham, NC. Dr. Porter has worked in the eating disorders field for 15 years, all at higher levels of care. Dr. Porter is currently the Clinical Director at Carolina House. Dr. Porter is an anti-stigma advocate, a Health at Every Size provider, and committed to using her many privileges to support and provide compassionate and inclusive care. In her personal time, Dr. Porter enjoys spending time with her husband and cats, reading, and trying to see Hamilton: An American Musical as many times as humanly possible.
CE Information
- Earn 2 CE Credit Hours
CE Approvals
American Psychological Association
CE Learning Systems, LLC is approved by the American Psychological Association to sponsor continuing education for psychologists. CE Learning Systems maintains responsibility for this program and its content.
CE Process Info
Each professional is responsible for the individual requirements as stipulated by his/her licensing agency. Please contact your individual licensing board/regulatory agency to review continuing education requirements for licensure renewal. Please note: You must attend "live" (in real-time) to earn CE credits.
Before the event, you will receive an email from CE-Go with access to the virtual event. After the event, you will receive access to your evaluation and continuing education certificate via a personalized "attendee dashboard" link, hosted on the CE-Go website. This link and access to the virtual event will be sent to the email account you used to register for the event.
Upon accessing the CE-Go "attendee dashboard", you will be able to:
Complete evaluation forms for the event

Download your continuing education certificate in a PDF format
If you have any questions or concerns regarding the CE-Go process, please contact CE-Go at 888-498-5578 or by email at support@ce-go.com Please Note: Emails for this event will come from "support@ce-go.com".
Please make sure to check your spam/junk folder in case those emails get "stuck". We'd also suggest "whitelisting" support@ce-go.com. This tells your email client that you know this sender and trust them, which will keep emails from this contact at the top of your inbox and out of the junk folder.